The Julian calendar is still used in Georgia. The consequence of this is that the first day of the new year is celebrated first, followed by Orthodox Christmas. Christmas itself is celebrated by the Georgian Orthodox Church on January 7, when believers usually meet in the church, where a special Christmas service is held.
The service begins late at night on January 6 and continues until 4 or 5 in the morning. After communion, everyone congratulates each other on the birth of Christ, and the head of the church gives a speech in front of the people in connection with Christmas. Only then do Georgians go to celebrate this day together with their family members and close people.
Do you know Georgian Christmas traditions?
One of the essential parts of Christmas in Georgia is the traditional Christmas procession called Alilo, which is named after the Georgian Christmas carol that is sung during the procession. The march usually starts in the morning after a special Christmas service.
Orthodox Christians all over Georgia participate in this Christmas event. Participants carry Orthodox icons, Georgian flags, crosses and sing Christmas carols. Priests bless the crowd with holy water and some people wear costumes associated with the Bible. Anyone can join the march, and many bring gifts and contributions to orphanages, retirement homes and prisons.
Georgian Christmas tree – chichilaki
An important attribute of Christmas in Georgia is also the Christmas tree, but it looks completely different from what we are used to. A traditional Georgian Christmas tree called chichilaki is made from dried branches of hazelnuts or walnuts, which are shaved into long curly "strings" to form a small tree.
Georgians believe that the tree resembles the beard of Saint Basil the Great, who is said to visit people during Christmas much like Santa Claus. Chichilaki are decorated with fruit and sweets and remain in homes until the Orthodox feast of Epiphany on January 19, when the trees are ceremoniously burned to symbolize the passing of the previous year's troubles.
Traditionally, ripe blackberries and cherry jam predominate. The mid-palate is a little lighter compared to the previous collection, but all the more delicate and balanced. The aftertaste is persistent with a perfect balance of natural sweetness and acidity.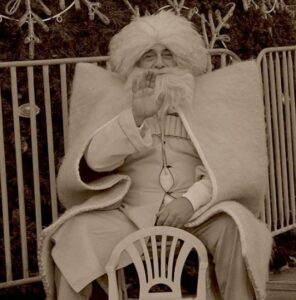 Gifts for children in Georgia
Georgian children receive gifts on New Year's Eve – December 31. Gifts for children are traditionally carried by Tovlis papa (თოვლის პაპა), or Tovlis babua (თოვლის ბაბუა) in West Georgian dialects, which means Snow Grandfather. He is dressed entirely in white, including a hat and a cloak called a nabadi. The coat is heavy and very warm because it is made of white sheep wool.
On New Year's Eve, he descends from the Caucasus mountains and walks around Georgia to bring gifts and sweets to all Georgian children. The children leave a delicious delicacy called churchkhela for Tovlis Papa, it is made of nuts and grape juice and is shaped like a "sausage".